On January 6, 2019, the closing ceremony and awarding the certificate of "Vietnam's Top Brand – Gold product, Gold service in 2018" took place at Au Co Art Center (Hanoi). Tam Binh Pharmaceutical has been honored in the Top 50 leading brands in Vietnam. Our product "Vien Khop Tam Binh" also won the Top 20 Vietnam Gold Products.
The program is organized annually by the Vietnam Intellectual Property Association in collaboration with the Institute of Intellectual Property Science – Ministry of Science and Technology, Vietnam Retailers Association, Vietnam Digital Media Association, Hanoi Radio and Television Broadcasting. The aim is to honor businesses that actively work to produce and innovate constantly to provide the market with high quality brands, products, perfect services, serving people's life, contribute to the development of the country's economy.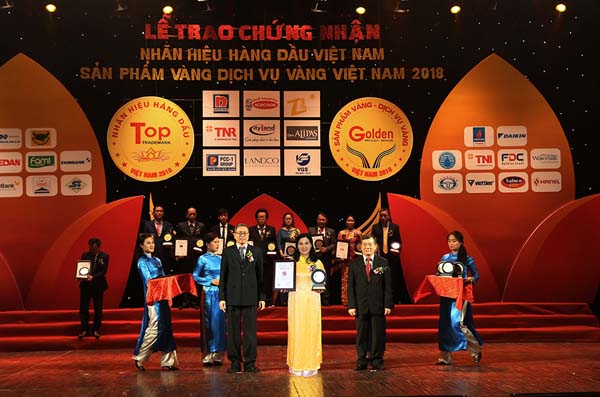 Mrs Le Thi Binh – General Director of Tam Binh Pharmaceutical Company received "Vietnam Top Brand" and "Vietnam Gold Product Award"
Prizes are given after rigorous evaluation and appraisal process based on many criteria such as enterprise competitiveness, brand reputation, technology application, quality management system … Therefore, consumers who buy Vietnam Gold Products, as well as products and services of "Vietnam Top Brand" will be assured of quality, price and prestige.
At the awards ceremony this year, alongwith many large enterprises in many different industries such as VNPT, Techcombank, Vingroup, Vietnam Airlines, BKAV … Tam Binh Pharmaceutical was honored to be named in the Top 50 Trademarks early Vietnam. The product "Vien khop Tam Binh" has been chosen to be included in the Top 20 Vietnam Gold Products.
Always belief in the motto "wholehearted in every products", right from the start, Tam Binh Pharmaceutical has developed a business strategy with a focus on sustainable development, always committed to product quality and reasonable price. After 8 years of establishment and development, Tam Binh Pharmaceutical has affirmed its brand reputation when receiving many noble awards such as Vietnam Typical Enterprise Cup, Vietnam Pharmaceutical Trademark Cup, Merit of Minister of Health, Certificate of Merit from Hanoi People's Committee … Especially, recently, the Company was honored to be in the Top 100 Sustainable Enterprises 2018.
Tam Binh Pharmaceutical products such as Viên khớp Tâm Bình, Viên gout Tâm Bình, Đại tràng Tâm Bình, Thấp diệu nang Tâm Bình, Viên tiêu hóa Tâm Bình… are distributed throughout 63 provinces and cities nationwide and had received many prestigious awards . In particular, Viên khớp Tâm Bình – the company main product is highly appreciated by experts and patients for their effectiveness, safety and reasonable prices.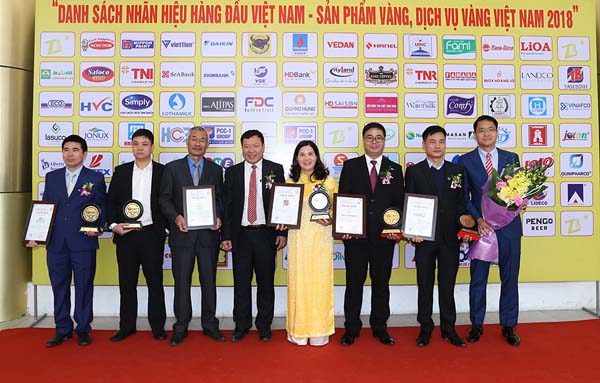 Mrs. Le Thi Binh and representatives of businesses at the closing ceremony and awarding certificates
Developed from the traditional medicine, combine with modern production technology, Viên Khớp Tâm Bình improve kidney function, strengthen tendons, improve blood circulation, reducing joint and aching aches and pains and slow aging process. Therefore it's is very effective in reducing symptoms of osteoarthritis, arthritis, increase synovial fluid. The product has been twice in the Top 1 "Vietnamese products voted by consumers", High quality Vietnamese products, "Believe and Use" certificate
Following many prestigious awards has been achieved, this award once again affirms the prestige of brand, strong competitiveness of Tam Binh Pharmaceutical and the potential of breakthrough and dominate the market.