Tam Binh Pharmaceutical Company was established on 13/12/2010, founded by CEO, pharmacist Le Thi Binh. Through the process of construction and development, Tam Binh has affirmed its brand in the Vietnamese pharmaceutical market with products made entirely from herbs such as Viên Khớp Tâm Bình (joint products), Vien Gout Tam Binh (gout treatment prophylaxis) and […]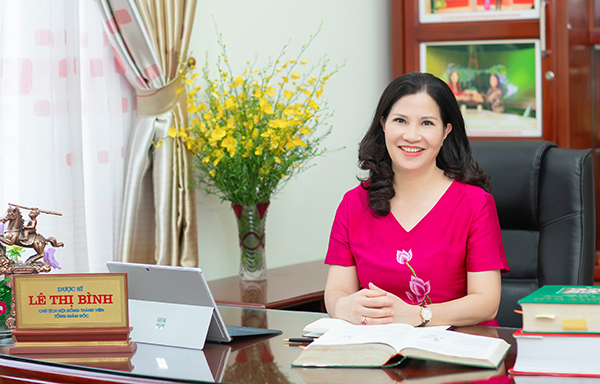 Dược sĩ Lê Thị Bình
Tam Binh Pharmaceutical Company was established on 13/12/2010, founded by CEO, pharmacist Le Thi Binh. Through the process of construction and development, Tam Binh has affirmed its brand in the Vietnamese pharmaceutical market with products made entirely from herbs such as Viên Khớp Tâm Bình (joint products), Vien Gout Tam Binh (gout treatment prophylaxis) and Dai Trang Tam Binh (irritated bowel syndrome), Thấp Diệu Nang Tâm Bình (rheumatism) và Viên Tiêu Hóa Tâm Bình (digestive disorders)…
Our company is located at 349 Kim Ma, Ba Dinh, Hanoi with nearly 200 employees, 350 distribution agents in 63 provinces and thousands of pharmacies that sell our pharmaceutical products. Our GMP-WHO factory has an area of ​​more than 8,200 m2 in Ninh Hiep, Gia Lam – industrial parks, equipped with modern machinery. The company has specialized areas to supply pharmaceutical materials to the factory, thus ensuring safe medicinal sources.
Comes from a family with long tradition of medicines, CEO Le Thi Binh has developed a passion for traditional medicine early on. Graduated from Hanoi University of Pharmacy – the most prestigious pharmacist training institute in Vietnam, with 13 years of experience working for for domestic and foreign pharmaceutical companies, she worked with many top scientists to research and successfully combined traditional medicine with modern manufacturing methods to introduce quality products, which are widely appreciated by Vietnamese people
Always believe that sustainable development must be associated with social responsibility. Over the years, Tam Binh has actively participated in many charitable activities, free medicine and medical examination  for the poor, the elderly and people in difficult circumstances from all parts of the country. Every Lunar New Year comes, the company organizes many gifts for ethnic minorities in remote areas, orphans raising center, nursing home, and supports the "Vi Nguoi Ngheo" fund. In 2018, the Company sponsored the construction of the Tim Bridge to help Chieng village people (Trung Son commune, Quan Hoa district, Thanh Hoa province) to cross the river more easily and develop local economic trade. Volunteer activities for public health have been associated with Tam Binh Pharmaceutical brand.
With many contributions to community and society, Tam Binh Pharmaceutical Company was honored to be awarded many certificates of merit and noble titles such as: Pharmaceutical brand for public health, 2 times won the title of High-quality Vietnamese Goods, Sustainable Development Brand Certificate, Certificate of Excellent Vietnamese Goods, 2 times received Merit from the Minister of Health, Merit from Vietnam Chamber of Commerce and Industry, Merit from the Central Vietnam Red Cross; Top 100 sustainable businesses in 2018; Enterprises represent employees … For 7 consecutive years (2012-2018), the Company was awarded the certificate of Merit by the Hanoi City People's Committee.
Products of Tam Binh Pharmaceutical Company have received many prestigious awards such as: 2 times achieving the title of High Quality Vietnamese Product, 7 consecutive years to be voted as Vietnamese products loved by consumers. (2012-2018), the award "Believe and use"; Certification of safety products for public health … In particular, Vien Khop Tam Binh (our joint product) was in the Top 20 Vietnam Gold Products and 2 times Top 1 "Vietnamese products are loved by consumers" …
Personally, General Director, Pharmacist Le Thi Binh has been awarded the Golden Rose Cup five times to honor excellent businesswomen who have many contributions to the community; 2 times to receive the Holy Giong Cup to honor 100 typical Vietnamese Entrepreneurs, 2 times to receive the Certificate of Merit from the Minister of Health, Cup of Excellent Enterprise Leadership, Cup of Talent Director and the Central Red Cross Association Vietnam awarded the Golden Table "A loving heart shines" …